---
SUPPORT A VISION WHERE NO ONE GOES HUNGRY
---
---
The Food Banks Canada Collection is developed in partnership with Food Banks Canada to bring hope to communities across the country. 100% of sales of this curated seed collection are donated to support people who rely on food banks.
Statistics from the Food Banks Canada HungerCount show over 1.4 million visits to food banks in the last year. 33% of food bank users in Canada are children while only representing 18.8% of the population. According to Statistics Canada, 1 in 7 Canadians are food insecure.
Everyone in Canada has a role to play. West Coast Seeds is proud to support Food Banks Canada on their mission to end hunger. With the Food Banks Canada Collection, you can grow food in your own backyard while supporting families in need.
---
---
FOOD BANKS CANADA COLECTION
---
---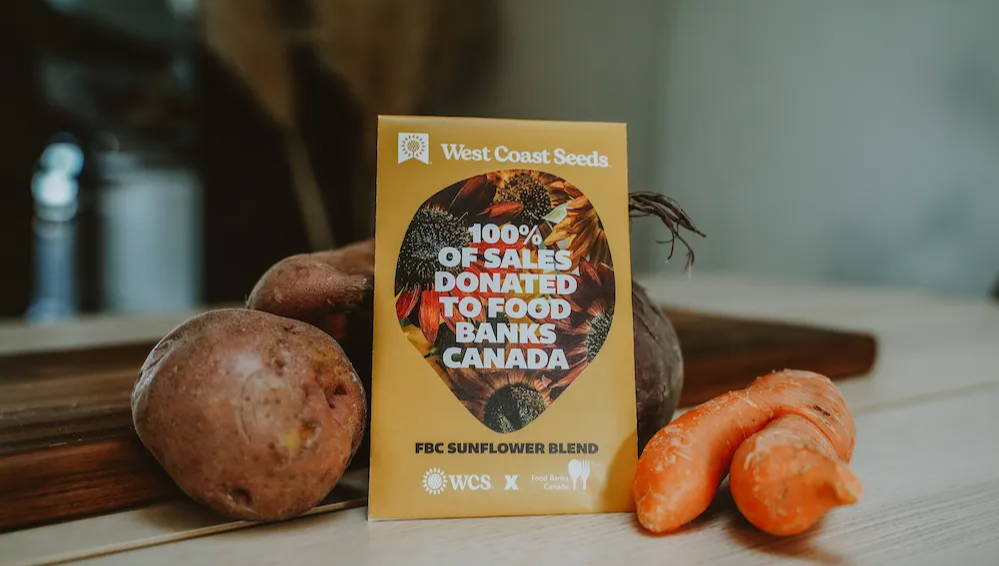 Growing Food & Giving Back
---
This signature collection of seeds makes the perfect addition to spring and summer gardens. Growers will enjoy a dazzling display of multi-colour sunflowers, a one-of-a-kind mix of crunchy mini cucumbers, and an easy-to-grow blend of fragrant and delicious basil.
Seeds are suitable for growing in almost any garden space from patios to backyards and small market farms. Detailed growing instructions are included on custom-made packets developed in partnership with Food Banks Canada. Seeds are untreated and suitable for organic growing with germination rates that meet or exceed Canada No. 1 standards.
Give back to the earth, donate to communities in need, and enjoy a bountiful harvest through the spring and summer with the Food Banks Canada Collection.
---
Add the Full Collection to Your Cart
---